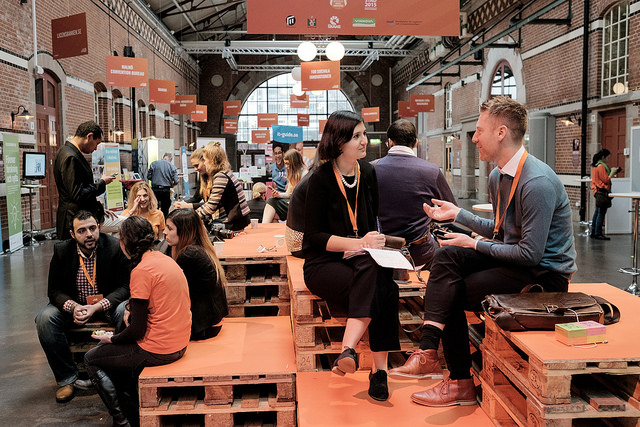 UnConference Space at Social Innovation Summi
20 oktober 2016
Texten är skriven av Impact Hub
This year, Impact Hub Stockholm is hosting an UnConference Space for attendees and thought leaders at the Social Innovation Summit (#SISUMMIT16). What do you want to do? The UnConference Space is for you, and it's as provocative and enriching as you make it.
How it works:
The Social Innovation Summit is going to bring together many people with diverse ideas and experiences. #SISUMMIT16 will start conversations, and Impact Hub's UnConference Space is the place to take them deeper. There, you'll find speakers from the program as well as participants who will propose and host sessions on topics they feel are critical to social innovation. #SISUMMIT16 participants are also invited to hang out in the space for casual conversations between hosted sessions.
Please propose a session:
General Discussion? Explore or get feedback on an idea!
Continuing Conversations? Pick up a thread from Social Innovation Summit program.
Skills Offer? Share an expert skill!
And if what you want to offer doesn't fit into one of those categories, we're still open to it.
Interested in hosting a session? Please send an email to unconference@impacthub.se no later than 24th October OR find an Impact Hub Stockholm crew member at the UnConference Space during the summit days. When proposing a session, please specify:
the topic
session type
session host
preferred time slot (first-come, first-served)
Time slots:
25 October

11.00 – 11.50               SESSION 1
11.50 – 12.05               Transition
12.05 – 12.55               SESSION 2
12.55 – 13.10               Transition
13.10 – 14.00               SESSION 3
14.00 – 14.15               Transition
14.15 – 15.05               SESSION 4
15.05 – 15.20               Transition
15.20 – 16.00               SESSION 5

26 October

11.00 – 11.50               SESSION 6
11.50 – 12.05               Transition
12.05 – 12.55               SESSION 7
12.55 – 13.10               Transition
13.10 – 14.00               SESSION 8
14.00 – 14.15               Transition
14.15 – 15.05               SESSION 9
15.05 – 15.20               Transition
15.20 – 16.00               SESSION 10
Impact Hub Stockholm crew at your service: